About Zapata Women's Health Center(WHC)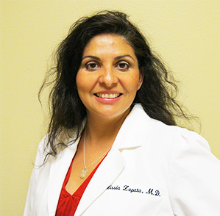 Thank you for visiting our website
If you're a new patient, we look forward to meeting you. Please visit our new patient page for information about your first visit. Dr. Zapata is Board Certified in Obstetrics and Gynecology.
Read more
Our Mission Statement
Quality Healthcare
You deserve the very best care when it comes to your body. Here at Zapata WHC we provide the best healthcare available with experience and state of the art equipment.
Personalized Service
It is our mission to never allow a patient become just a number. We want to know our patients on a first name basis. Dr. Zapata sees each and everyone of her patients.
Caring
We are dedicated, caring advocates of women's health. We care about each and every patient that comes into our office. Your health and well-being is our highest priority.
Comfort
Zapata WHC wants to provide a warm and friendly environment from the moment you walk through the door. Dr. Zapata takes pride in providing exceptional bedside manner.
Our Philosophy
Regardless of the stage of life you're in... adolescent, menopausol or somewhere between, our goal is to help you enjoy it. The following are some of the core values at Zapata WHC.
Trust: We will earn your trust through our actions
Accountability: We are responsible for our practice
Flexibility: Your time matters to us
Knowledge: We perform ongoing education and development
You should expect quality, caring, personalized and comfortable heathcare. Zapata WHC will provide this with profesionalism and dignity. Your privacy is important to us. We go beyond the HIPPA laws that govern information privacy in the medical field. Dr. Zapata CARES about her patients. It isn't uncommon to see her stop in on weekends to see patients at the hospital, just to say hi and make sure everything is okay (when she is not on-call.) You deserve this type of care!
WHC Office